Our 6 week declutter and organizing challenge is officially over! Now that your house is perfectly clean and organized, we thought it would be fun to make over a room (or 2!).
Today I'm partnering up with my girls Arin from Arin Solange at Home and Chrissy from Chrissy Marie Blog for a fun one room challenge!
As busy moms, we're all too aware of the itch to do something new to your house but often times lacking the motivation – and time – to get it done in between kids, school, spouses, work and all the other million things that take up our time!
That's why we wanted to put on a one room challenge to encourage and inspire you to makeover one room in your home! The three of us have been busy doing a makeover in our own home and are so excited to share it with you. We've all done things a little bit different to show you all the ways you can take part in this challenge.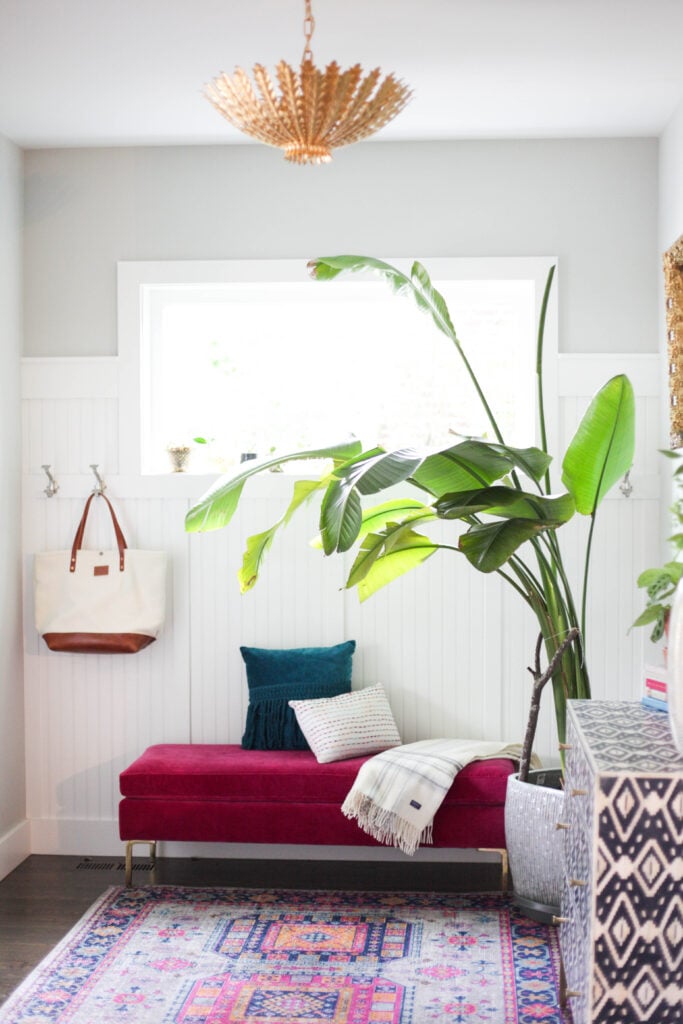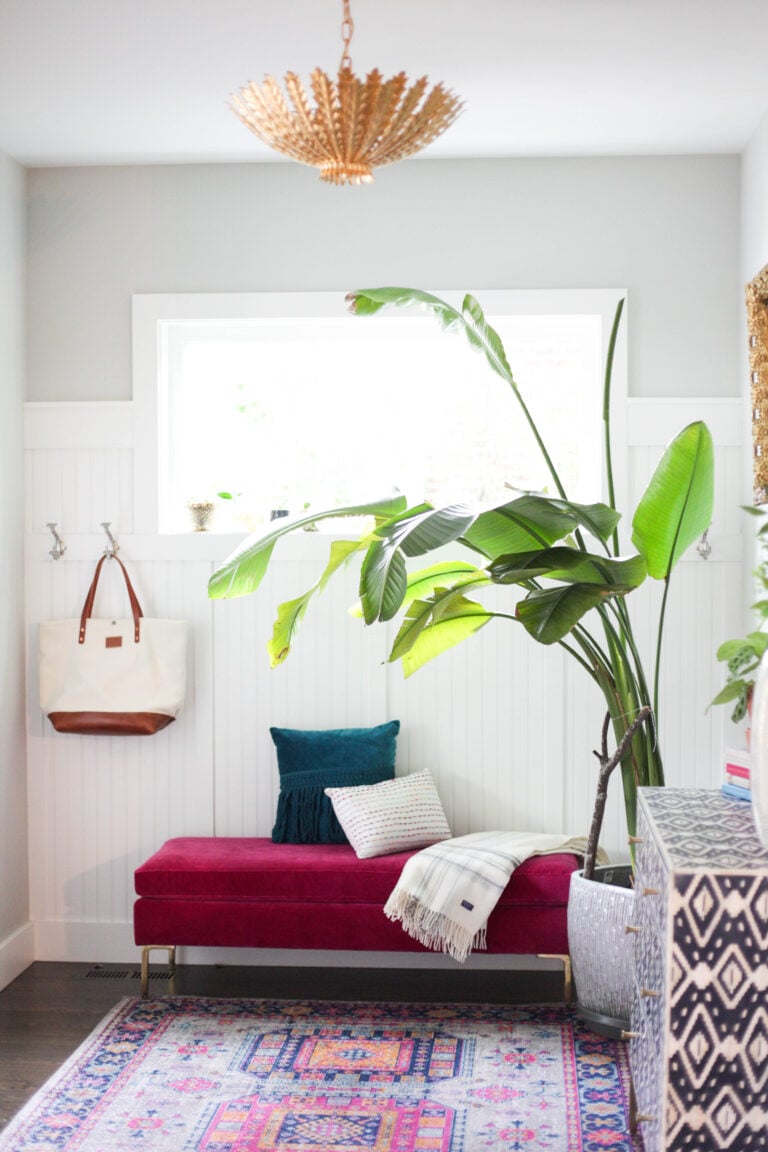 Challenge Details
Challenge begins: February 24th.
Challenge ends: March 15th
Rules: Refresh one room! This can be as big or small as you want, it just needs to be different.
All photos of room transformations must be share on Instagram tagging the 3 of us and using the hashtag #MarchRoomRefresh by the 15th to be entered in to the grand prize.
Again, you can do a giant refresh (new paint, new furnitures, etc) or a small one (new bedding), we don't care!
Prize: The grand prize winner will receive $250!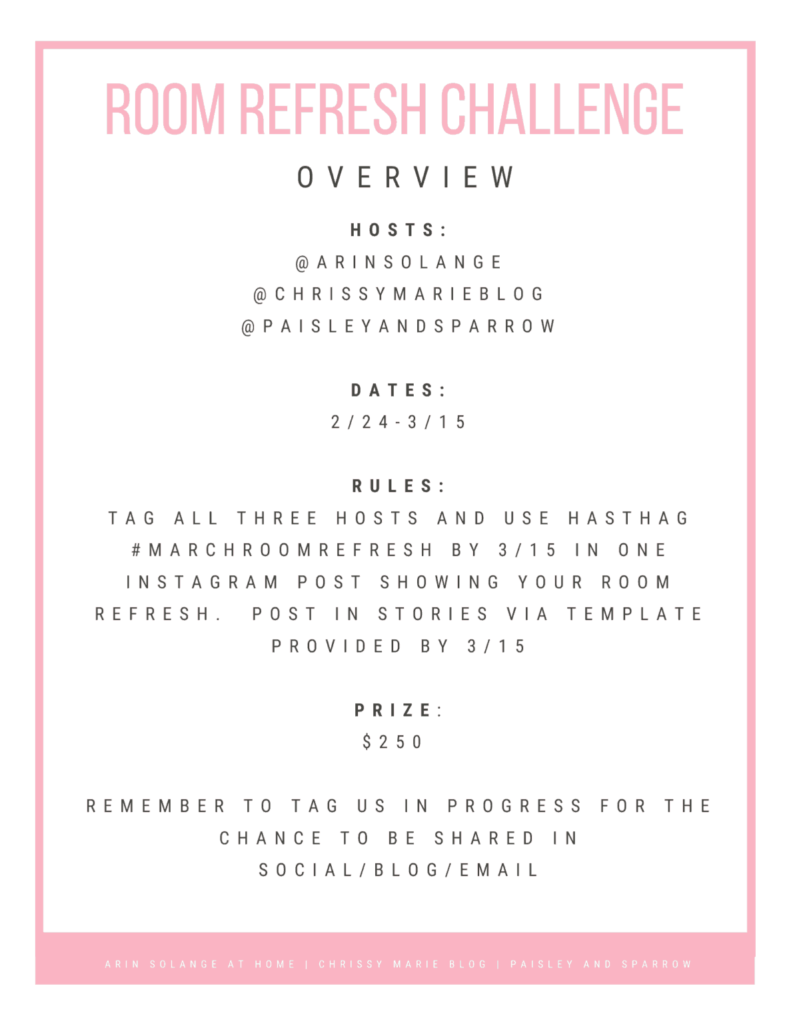 How we will help
Arin, Chrissy and I will be sharing a room that we've refreshed on the 24th! We all have different styles but will be walking you through our process and the changes we made.
I'm actually wrapping up 2 projects (our playroom and our bedroom) so I'll be sharing both throughout this challenge. The playroom is a bigger transformation and the bedroom is truly a refresh with new bedding, etc so you'll be able to see both.
We'll be sharing weekly emails and blog posts with lots of decor inspiration and tips to aid you in the process. And of course we'll be talking about it all on Instagram so stay tuned over there!
Share your progress!
Be sure to share your progress with us and we'll be sharing some of our favorites in our weekly emails! We love seeing the work you're doing and want to share it with our readers to inspire them as well.
Free Printables!
We've also put together a few worksheets to help you! One thing we all find valuable is to plan out the room before you begin. Create your budget, figure out exactly what you need to buy and when things need to be completed.
We also love making mood boards to really get our ideas out on paper. This helps cut down on how many items your purchasing and returning since they didn't go well together!
You can find both our planning document and our step by step tutorial on creating mood boards here. (Note – signing up to get our free printables will sign you up for all 3 of our email lists.)
We'll also each be sending out weekly emails to help you in the process! We'll be sharing tons of different tips and hacks that we've learned from decorating rooms (one thing I'll be sharing ALL about is gallery walls since those are my specialty!).
Remember to tag myself (@paisleyandsparrow), Arin (@arinsolange) and Chrissy (@chrissymarieblog) in all your posts and progress and use the hashtag #marchroomrefresh so others can see what you are doing!
Be sure to leave a comment if you're joining us and let us know if you have any questions!