This post was sponsored by Inspired Start.
Looking for a way to introduce allergens to your babies? Today I'm sharing a full Inspired Start review for one way to do just that!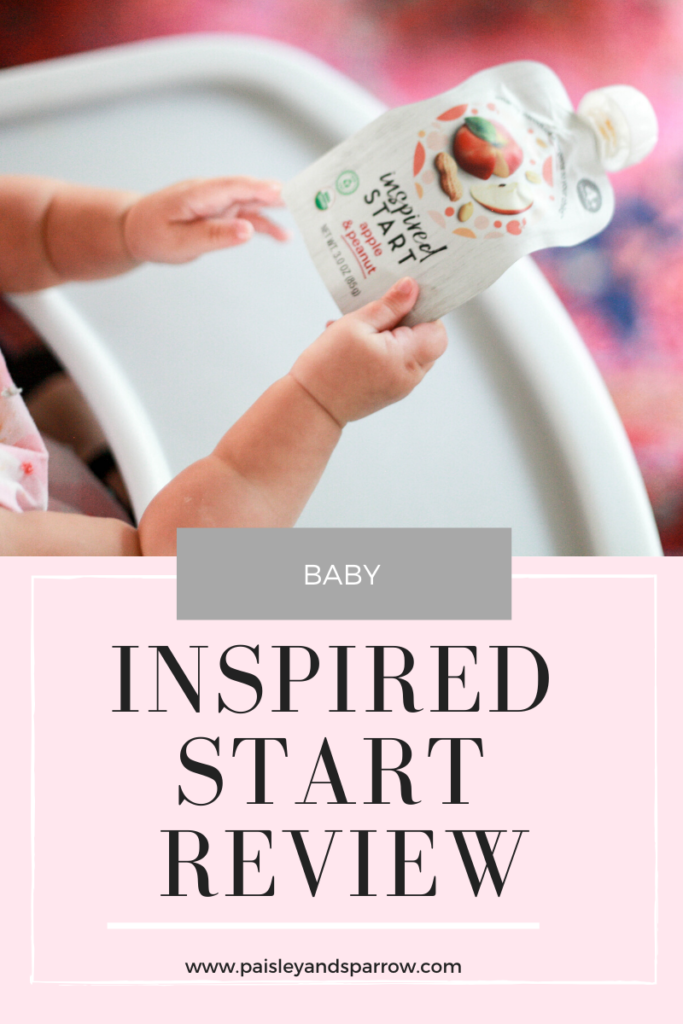 As a parent there are so many things to know, keep track of and learn about for your kids.
It starts from day one when you're supposed to track how many times that bundle of joy has wet and dirty diapers, figure out the best method to burp them (turns out Penelope wouldn't burp the "normal" way) and learn how to use a swaddle.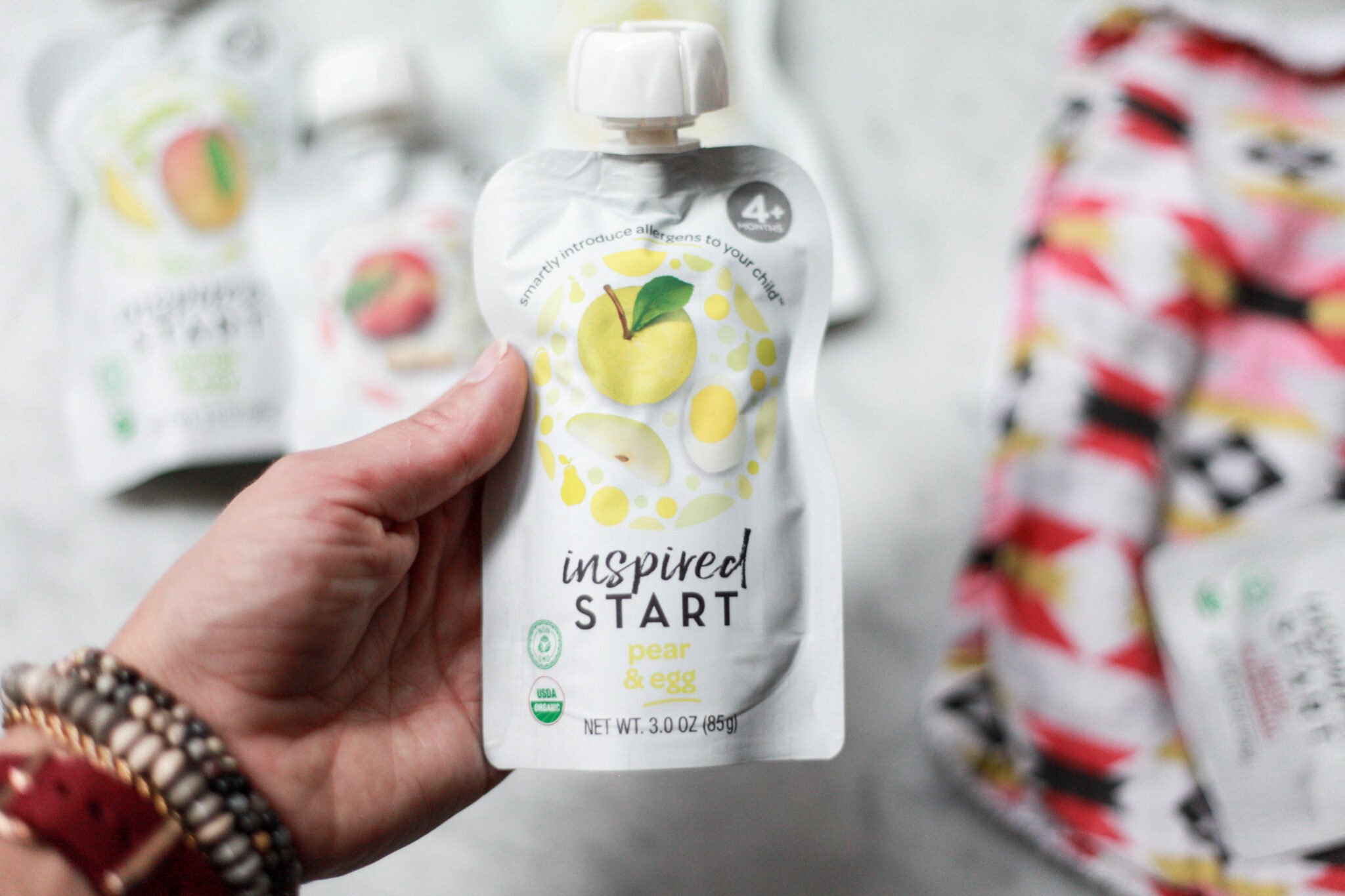 That continues as they grow – each stage has different things that both you and your baby are learning. It can be exhausting!
My Inspired Start Review
One thing that makes parenting and each stage easier are brands that help solve problems. One of these companies that I was introduced to recently is Inspired Start. Inspired Start is the only baby food designed to introduce 8 common allergens.
According to their website, "early allergen introduction, or just early introduction, is a new term — one that has emerged over the last couple of years as a response to new research.
Early introduction is the process of feeding a potentially allergenic food to infants early on in their immune system development and on a consistent basis as they continue to grow and develop.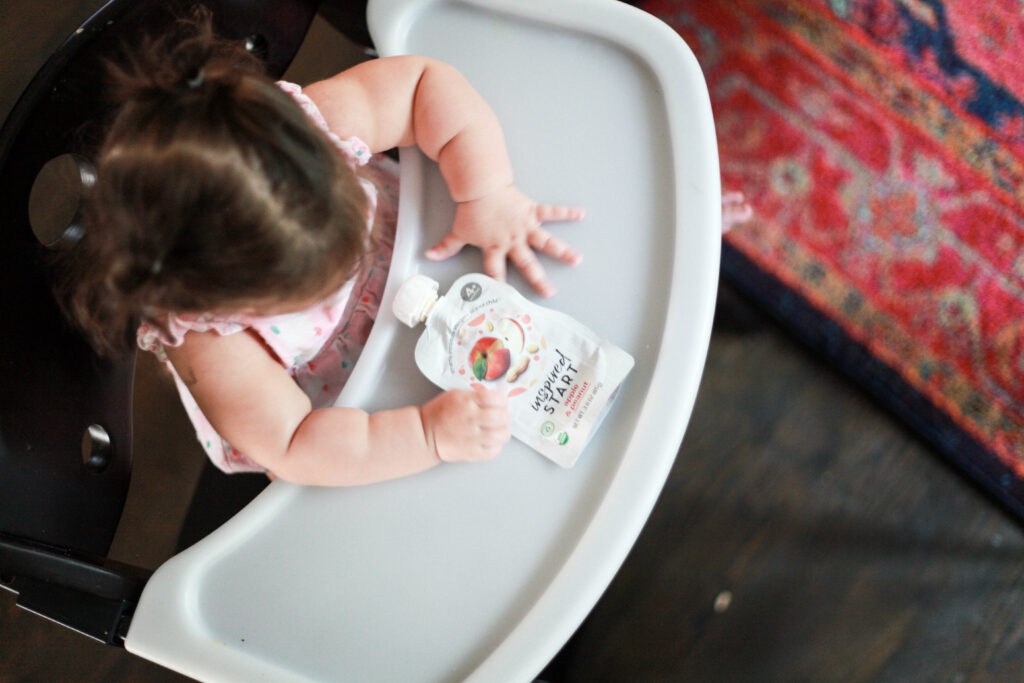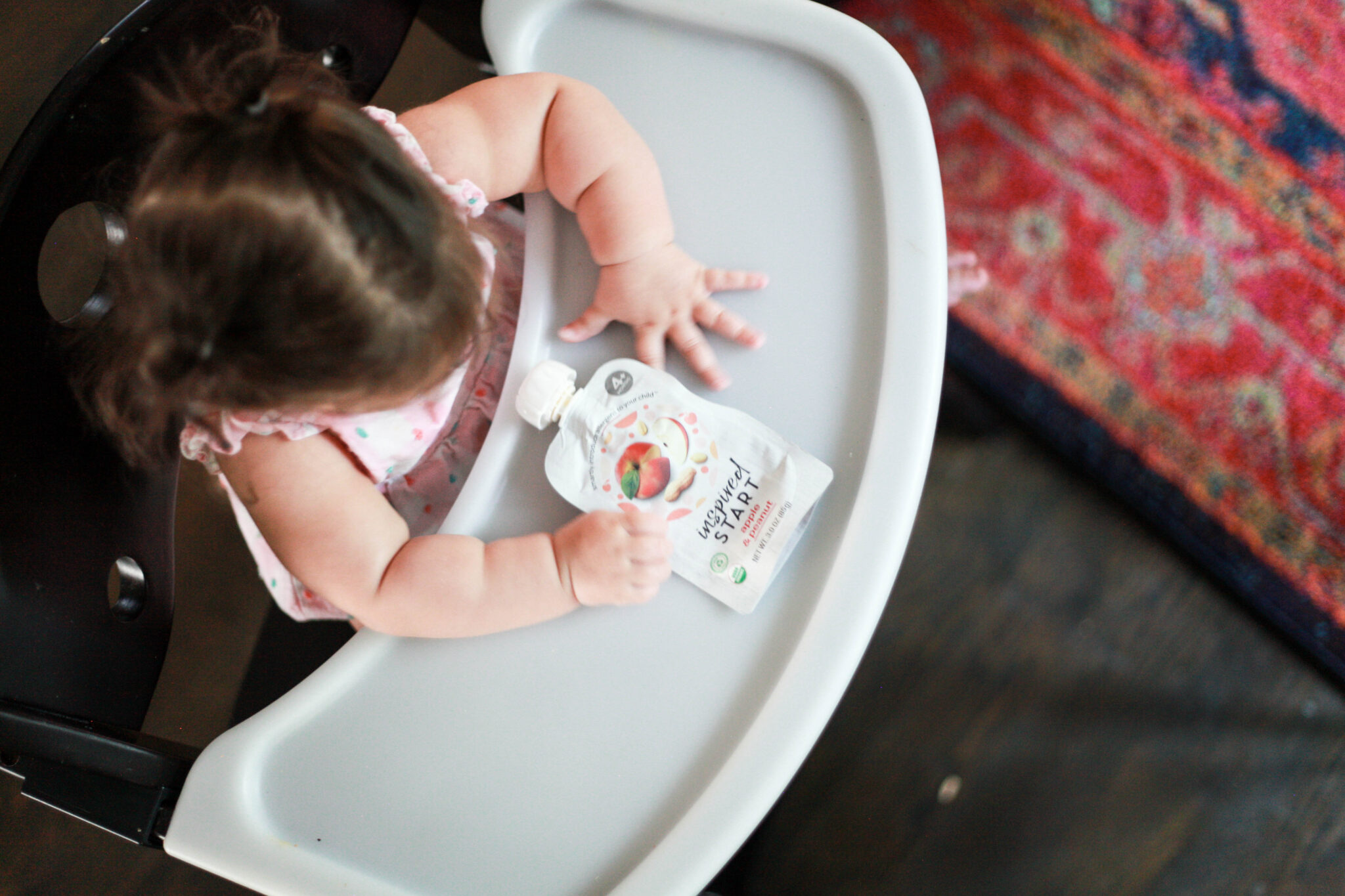 For the past decade, the American Academy of Pediatrics (AAP) recommended delaying the introduction of peanuts (and other allergenic foods) until about 3 years of age, but times have changed!
Thanks to new research, the American Academy of Allergy, Asthma, and Immunology (AAAAI) has since stated that there is no reason to delay the introduction of potentially allergenic foods past 4-6 months of age (right around the time many parents choose to start supplementing breast milk or formula with new foods)."

Starting solids
When Roy started solid foods I didn't know where to start! Our pediatrician gave us a few suggestions but then it was a lot of trying different thing (and googling)!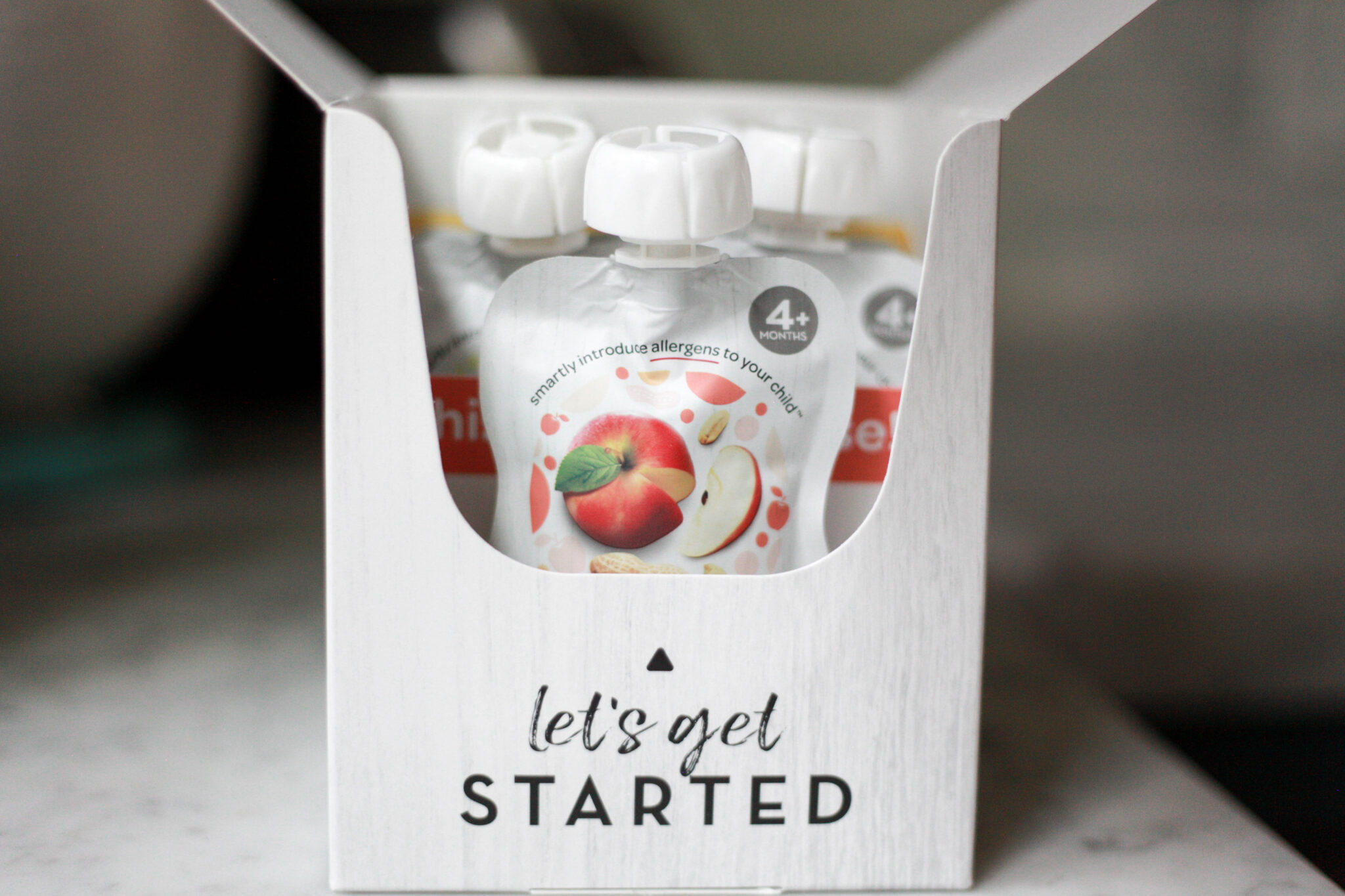 One thing I discovered with Roy is that it can be super hard to keep your little one's diet diverse. (Let's be real, it can be hard to keep our OWN diet diverse!) Inspired Start introduces foods that I haven't found in any other packaged baby food. So far Penelope's been introduced to peanuts, egg, tree nuts and soy (and LOVES them all). This week we're trying wheat, sesame, shrimp, and cod!
It's so nice to be able to introduce her to a variety of foods, without having to think too much about it! 🙂
Available on Amazon PRIME
Inspired Start takes it one step further by creating their food in pouches that can be ordered on Amazon Prime. Hallelujah! 🙂
If you've ever tried shopping with 2 kids under 2, you understand why I feel like we keep Amazon in business. If it can be ordered online, I pretty much do it.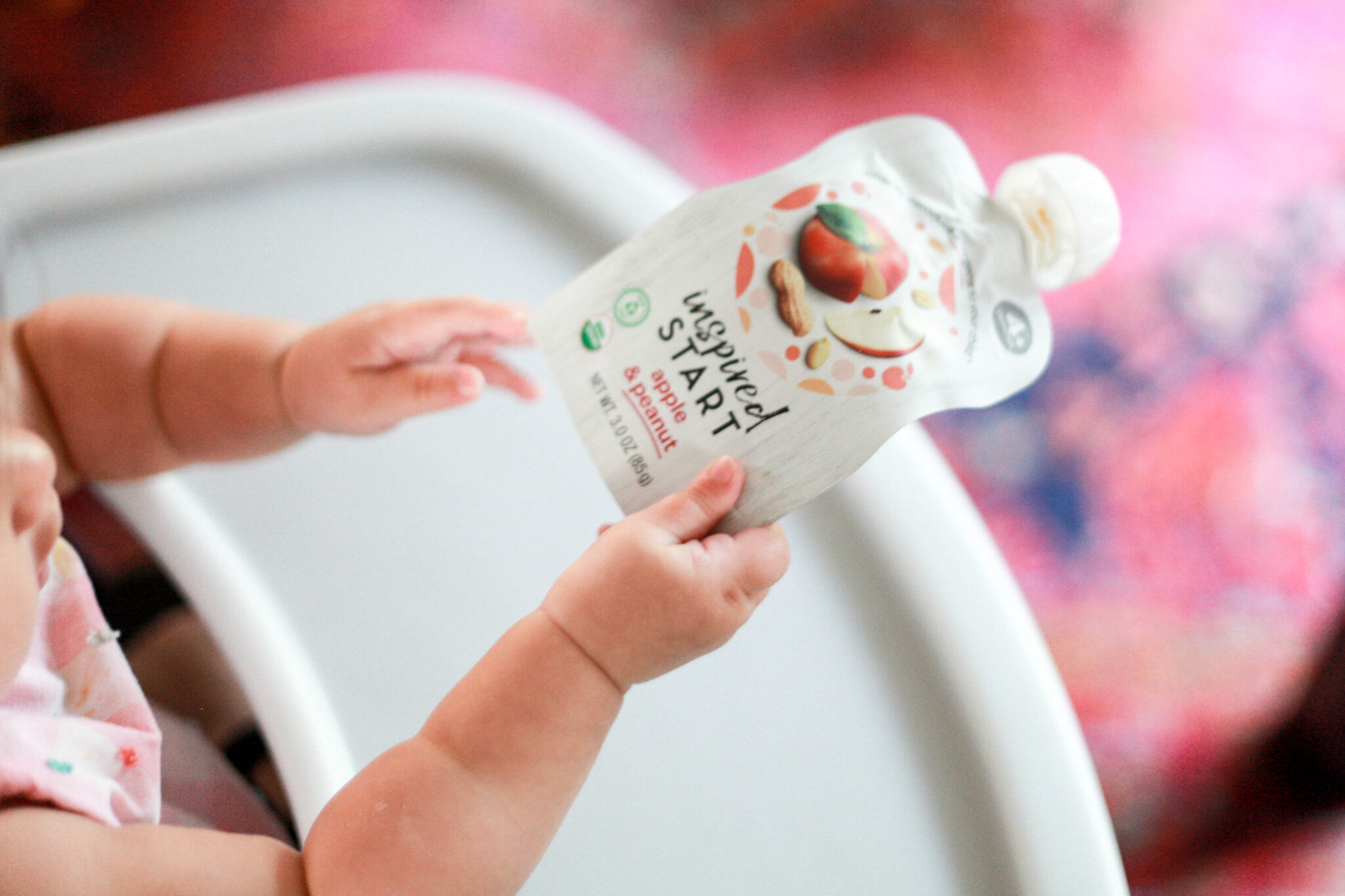 We simply order our Inspired Start pouches, they arrive at our front door, I open them up and give them to Penelope! They're also perfect for throwing in the diaper bag for when we're out and about.
There are 3 different packs you can get. Pack 1 has pouches introducing peanuts, egg, tree nuts and soy. Pack 2 has wheat, sesame, shrimp and cod. The Variety Pack has a mix of all of them!
Made by professionals
It is so nice to have one part of parenting that I don't have to think about or second guess. These pouches were created with the backing of leading allergists, pediatricians, nutritionists, AND they talked to hundreds of moms in the Boston area and beyond.
If you're a mom of a little one or mama to be, I highly recommend check out Inspired Start! Give them a follow on their Instagram (and get ready for some laughs like the post they shared below) and check out their site!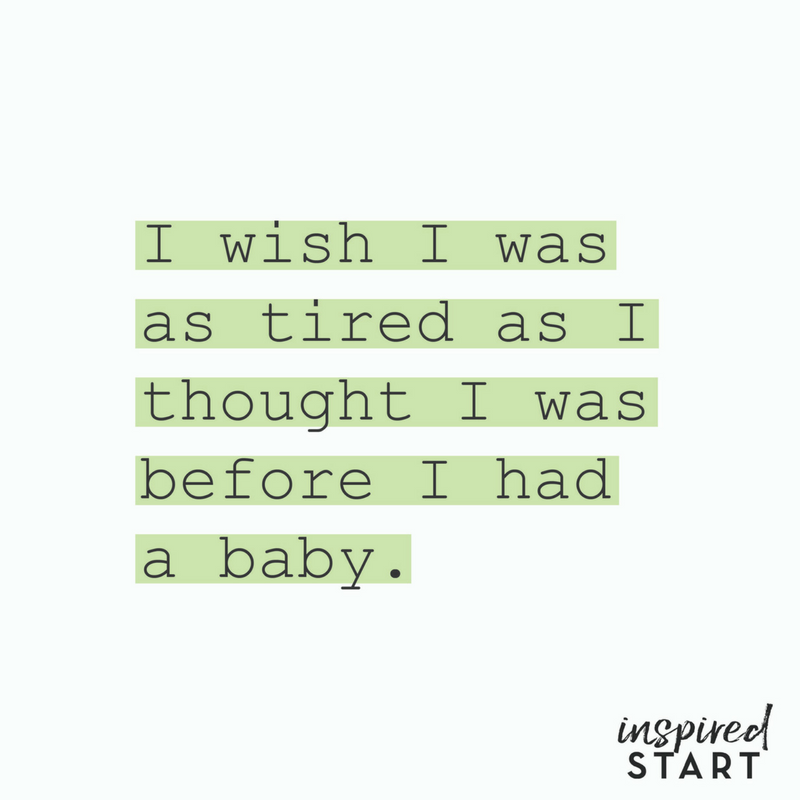 Thanks, as always, for reading and sharing this Inspired Start Review!
Next be sure to check out my Raised Real review – another great baby food options!