For those of you with an email newsletter sending emails out to people, listen up! There's a new email marketing tool out there and it's not MailChimp! Let me introduce you to Flodesk.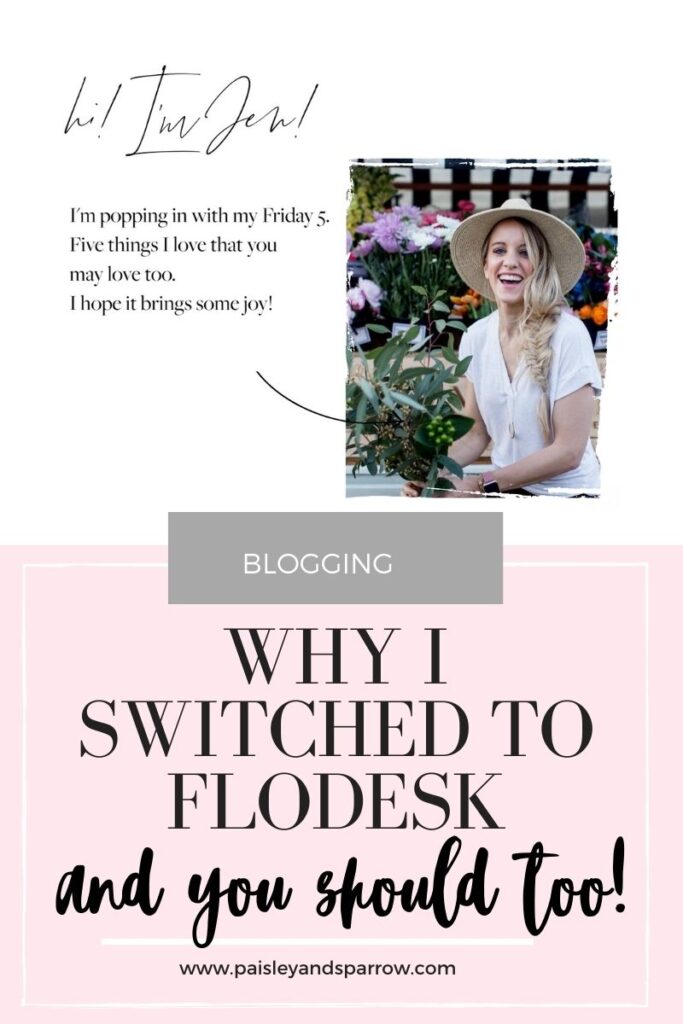 I've been sending emails out to through my business for well over 7 years. Most of those were with MailChimp. It was fine…most of the time.
I was recently introduced to Flodesk from a friend of mine (hi Lovely Lucky Life!) who was in the process of moving over to Flodesk.
I was on the hunt for a better mail host with prettier emails and easier to use workflows than my current host so I signed up. I'll be straight with you though. I did the free trial and went back to Mailchimp.
Say WHAT?!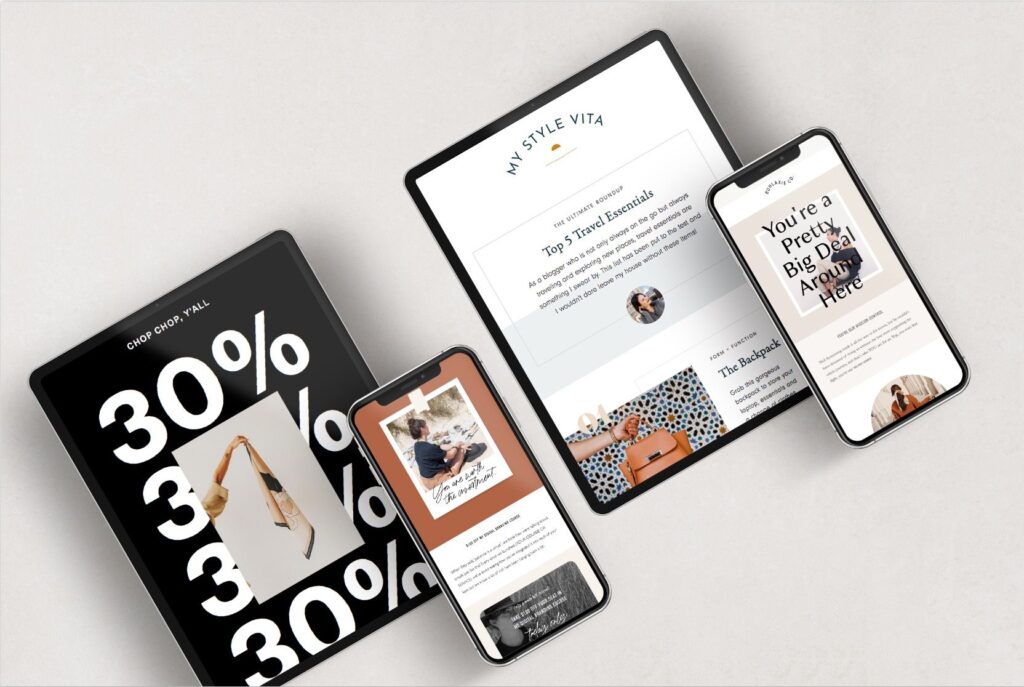 I had some major user error with it (totally all my issues!) and I just couldn't seem to get it to work properly. And because they're a new company the support wasn't as quick as I had hoped.
BUT. I went back.
After just a few weeks back at Mailchimp, I quickly realized that Flodesk FAR outperforms Mailchimp in SO many ways.
So let's chat all about Flodesk and what you need to know. Let's start with the basics – what is flodesk?
What is Flodesk?
Flodesk is an email marketing host that allow everyone from beginners to experts create beautifully crafted emails. It's super easy to customize with everything from your logo to your brand colors to even your Instagram feed!
Flodesk Pros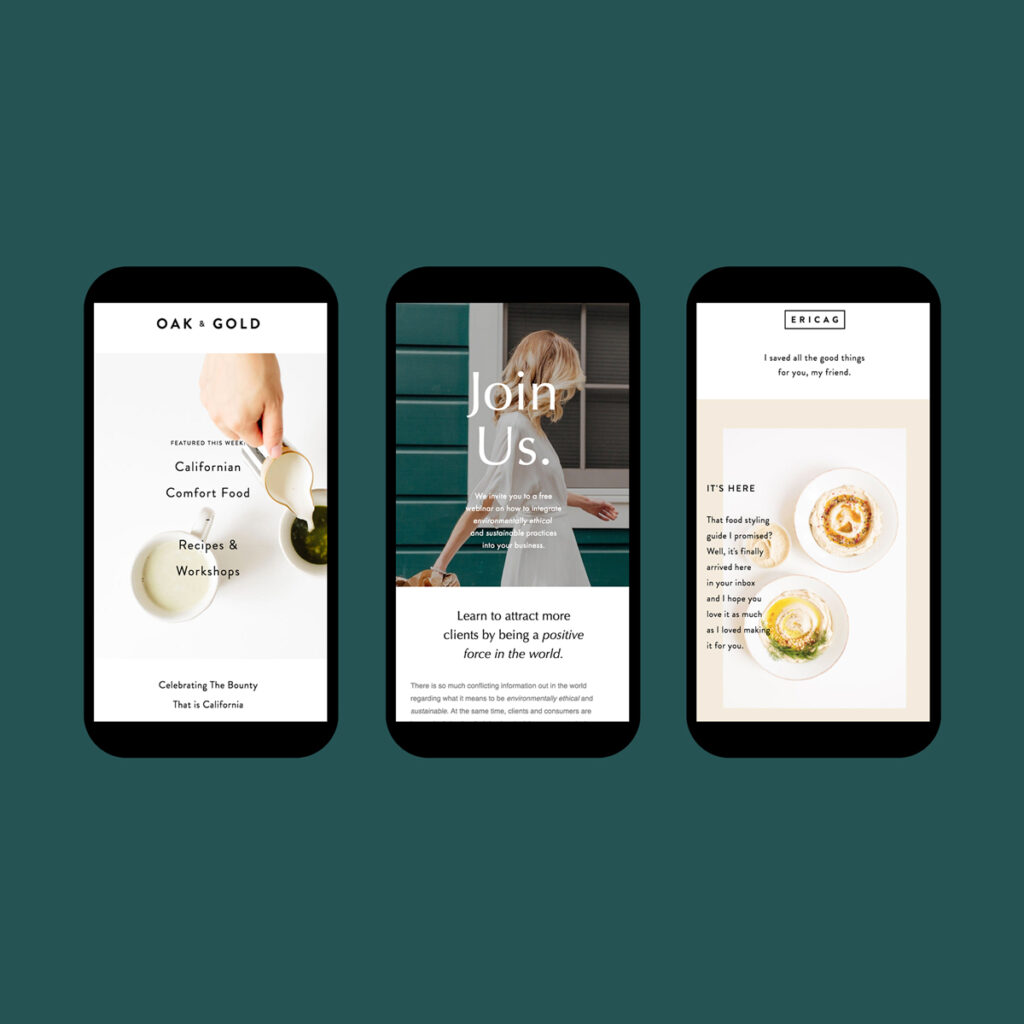 This post may include affiliate links which means I may earn a small commission if you shop using the links below at no additional cost to you. 
1. Flodesk Pricing
Unlimited users for one monthly fee. Yes, you heard correct! Flodesk pricing is unlike any I've experienced and it's amazing.
With Mailchimp your monthly fee is constantly changing depending on how many users you have. With Flodesk the price doesn't change! Grow that list, friends, and don't pay extra for it!
2. Beautiful Templates
You can use already created templates for just about anything – welcome emails, sharing news, etc. These emails are designed for you to welcome your subscribers, keep them interested in what you have to say and convert them in the end!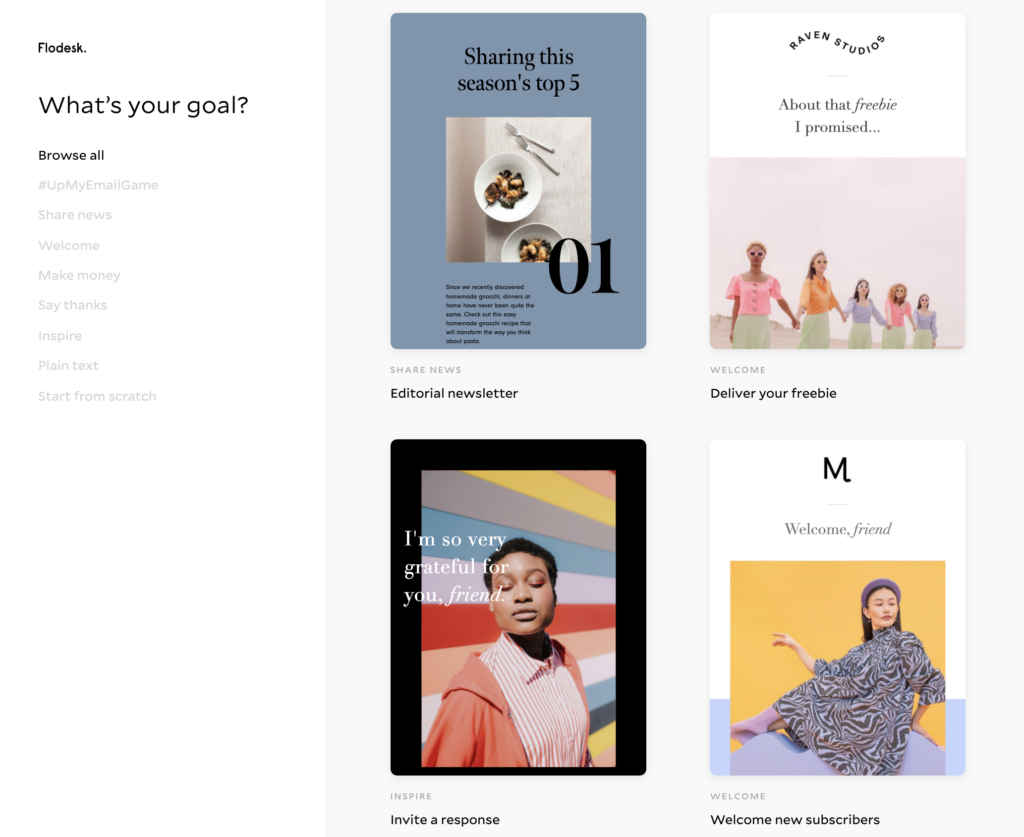 One amazing thing is these email are built in partnership with other successful entrepreneurs, so each template is designed to help you up your email game from people who understand the gig.
Each of these templates can be customized to completely match your brand colors, fonts and more.
3. Or Start From Scratch
Have the design skills already? Don't need a little help? This is still a great email marketing tool for you too!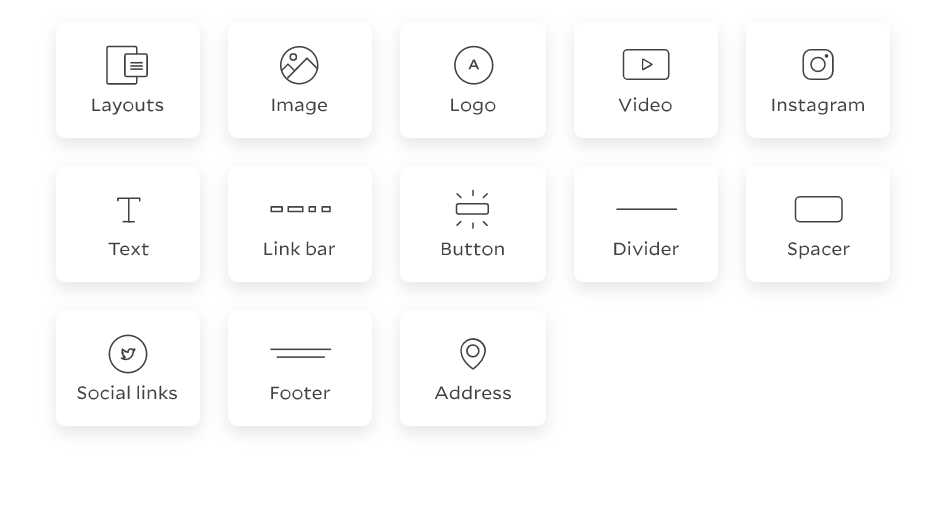 With easy drag and drop functionality, you can quickly and easily make beautiful emails that you designed from start to finish.
4. Easy to Read Analytics
Want clear, easy to understand analytics? How many people opened your email? What percentage clicked? Each email you send has everything from open rate, to which emails bounced to what type of device it was viewed on.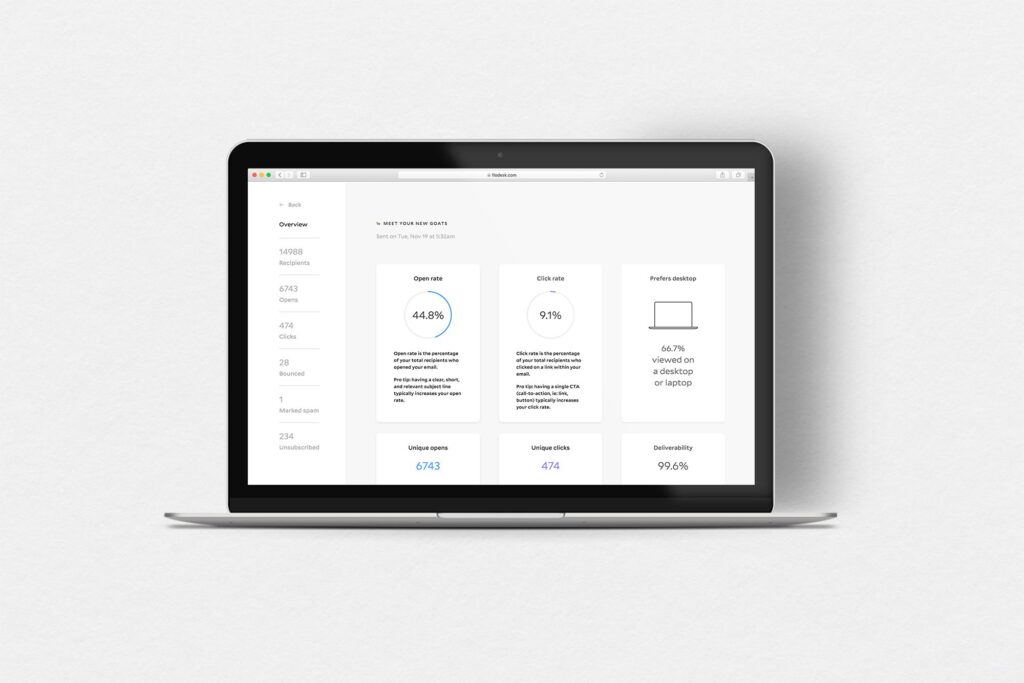 5. Multiple Workflows
Do you have a ton of opt ins? This is a great (and easy) tool for you to use. You're able to make as many workflows as you want! The first one I created was a bit clunky to figure out but once you do one it's easy peasy!
I'm in the process of creating all of my email free downloads into email opt ins to increase my email list!
6. Opt Ins That Convert
With Mailchimp my opt ins were ugly and got lost in the shuffle. Now? They're beautiful and made to convert. And the best part is they're so easy to make!
See? Isn't this so pretty?
7. Include Your Instagram Feed
Nothing I ever thought was possible was including your Instagram feed! It looks beautiful and there's nothing to even have to figure out to get it included.
Flodesk Cons
1. They're New
Flodesk is a new company and with any new company, there's kinks to work out! Hence why I jumped ship initially. BUT, I like what I see so far so I know things can only go up from here.
Flodesk FAQ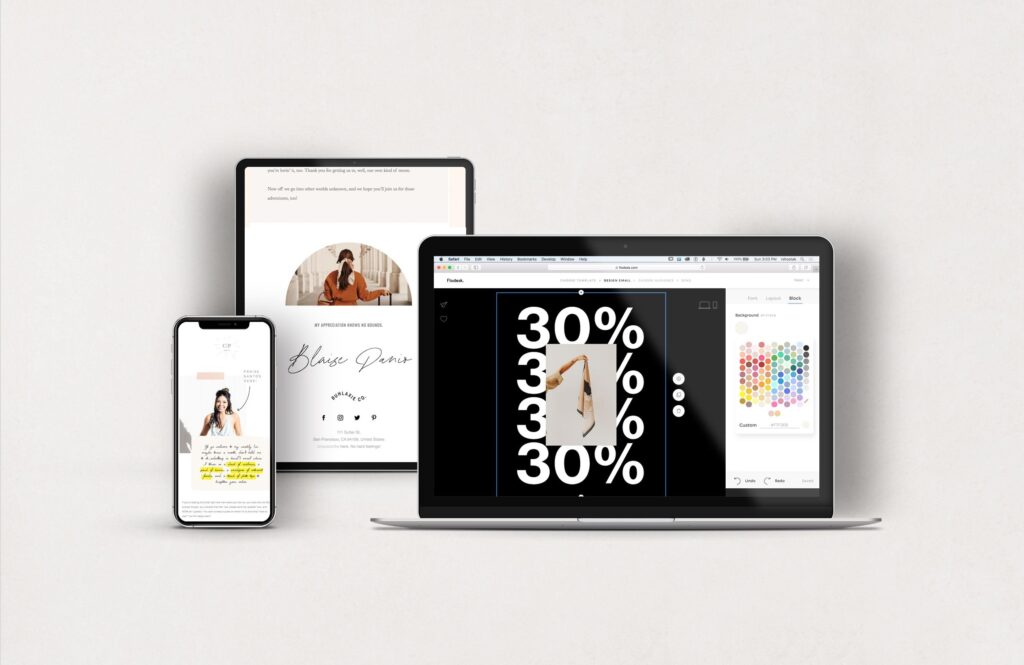 Is there a free version of Flodesk?
Yes! Flodesk does has a trial period. I always recommend doing the trial period for any new business tool to make sure you like it.
Does Flodesk have landing pages?
Yes, Flodesk does having landing pages. There aren't as many templates to use for landing pages but they're fully customizable if you have something specific you want.
I typically just use what the have and tweak it to my needs.
Does Flodesk integrate with Shopify?
Yes! Flodesk released Zapier integration which allows you to connect a ton of other programs you likely use for your business with your email marketing tool! Shpofy, Teachable, WooCommerce and HoneyBook are just a few that are included.
Can I do rss in Flodesk?
Currently they don't have that capability but they did say they were working on it. I will note, not having it forces you to be a bit more creative with your emails which will likely result in more engaged readers!
Overall, I feel like it's 100% worth checking out Flodesk's free trial, especially if you don't love the email marketing tool you're already using! And don't forget, you can get 50% off your Flodesk subscription just by clicking this link!
I hope this Flodesk review helps you know if it's right for you and your business!
Check out my best 3 productivity hacks here!