One thing I believe strongly in as a mom is taking time for yourself.
Taking a shower, doing your hair, buying clothes for YOU (and not just your kids!) is so important.
I've caught myself leaving the house with my kids looking like rockstars when I've barely pulled myself together.  I'm doing my best to not let that happen! I feel a lot better about life when I try (at least a little bit) with my appearance. I'm not saying you have to wear a cocktail dress every day or heck – even shower!
Because of this, I was super excited when Jenna from Bumbelou reached out to see if I wanted to collaborate!
I was introduced to Bumbelou when I found out we were having a girl and started my (ever growing) collection of headbands and bows. Turns out Bumbelou has the BEST headbands for babies. They're super stretchy, freakin' adorable and don't leave marks on your baby's heads. Penelope has such crazy hair that pretty much requires a bow every single day (and let's be real, I'm just obsessed with them) so she is always wearing one. We're hooked!
AND the best part of all, Bumbelou products are handmade by a mama right here in MN AND she donates 10% of her profits to support girls through sponsorships at Compassion International.
To help you get some inspiration for outfit ideas, I've put together 4 coordinating "mommy and me outfits" with Bumbelou's spring/summer line.
If you head over to her blog you'll see 3 fun mommy and me outfits. There's one for an afternoon at a park, one for church or a summer wedding and a vacation ready outfit (featuring me + the kids)!
And because I love you guys so much, below is a bonus outfit combo featuring Bumbelou's Pineapple Peplum and Bloomer Set.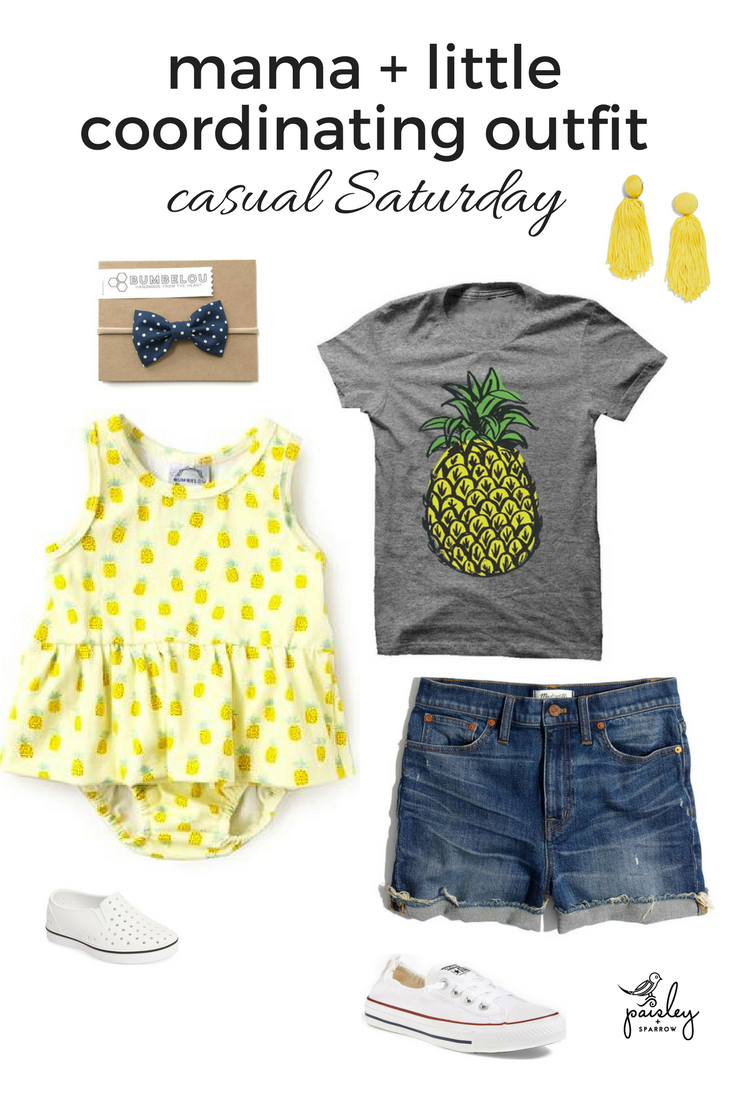 this post does include affiliate links and i do make a small commission for products purchased using some of the links in this post at no cost to you. thank you for supporting paisley + sparrow, making the content you see on this blog possible. 
For your little one: When I first saw the Pineapple Peplum set I fell in love – I mean, how cute is that?! And bows make everything extra cute! I also love the coordinating white shoes to match moms!
For you: High rise denim shorts are pretty much the best thing ever. They suck everything in so there's no plumber crack or muffin top issue. 😉  This pineapple tee is the perfect way to coordinate with your little without being 100% matchy matchy. Top it off with some classic Converse tennis shoes and fun yellow earrings and you're ready for anything!
Now be sure to jump over to the Bumbelou blog to see 3 more outfits!