Comfortable, trendy, practical. There are only good things to say about a crossbody purse. You can elevate any everyday outfit with a chic, stylish crossbody bag.
Whether you are heading out to work, dropping the kids off at school, or going on a date night, a crossbody purse is an ideal choice for all events and occasions. What's better than having your hands free while having all your essential right in arm's reach?
I've personally been using crossbody bags for years and fell in love with them the second I bought my first one. As a busy mom of 3, I was always annoyed with trying to manage my purse while dropping kids off at school or running errands at Target.
Once I started wearing a crossbody bag I was no longer messing around with my purse and now had both hands to get my kids safely across the parking lot. My crossbody bag keeps my phone and keys easily accessible for when I need them. It's also not hurting my back because I'm lugging around a giant bag full of unnecessary things!
This bag below is the one that I have in 2 colors and a variety of straps of. It's super inexpensive and my absolute favorite! (It's #2 below!)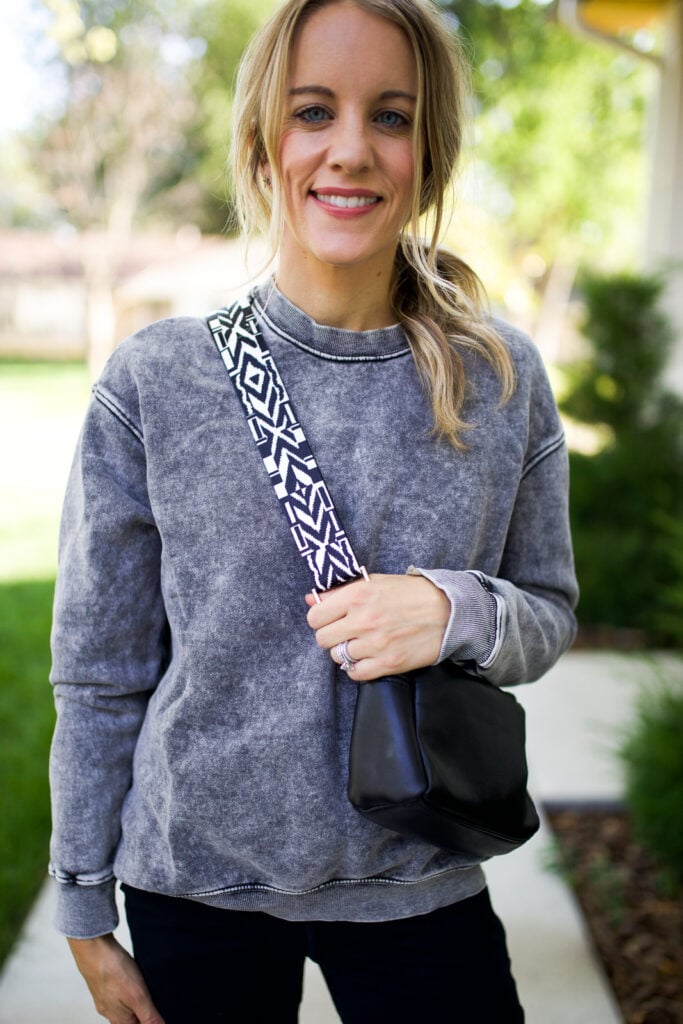 I love that I can grab whatever I need without taking it off like I have to do with a backpack and it doesn't keep slipping off like a lot of purses do! Even better, a lot of bags can be adjusted to be worn on the shoulder or as a crossbody bag, so you can change the style for how you're using it that day.
If you're looking for the perfect crossbody bag, there's no lack of choices for every style. Keep reading to find out the best crossbody bags available that will meet all your functional and fashion requirements.
But first, let's chat through how to choose a crossbody bag! This will help narrow down your choices below.
How do I choose a crossbody bag?
First you'll want to think through what you want your crossbody bag for and what you'll put in it.
Is this for everyday use and you'll need all of the things – wallet, phone, keys, snacks for the kids, etc? Make sure you choose something that is big enough for all of the items you need and sturdy enough to withstand daily use.
Is the for date night and you want something small and stylish? While bright colors are fun, perhaps stick with a more neutral color to ensure it will work with all of your date night outfits.
Do you want something that will work year round? Rather than a pastel pink that's great for summer, choose a classic tan that can work all year round.
Also consider the strap style! If you want something comfortable for all day wear, look for a wide strap. Only need the strap to work from the car to the restaurant? A bulky chain is just fine.
Without further ado, let's look at some of the best crossbody bags of 2023!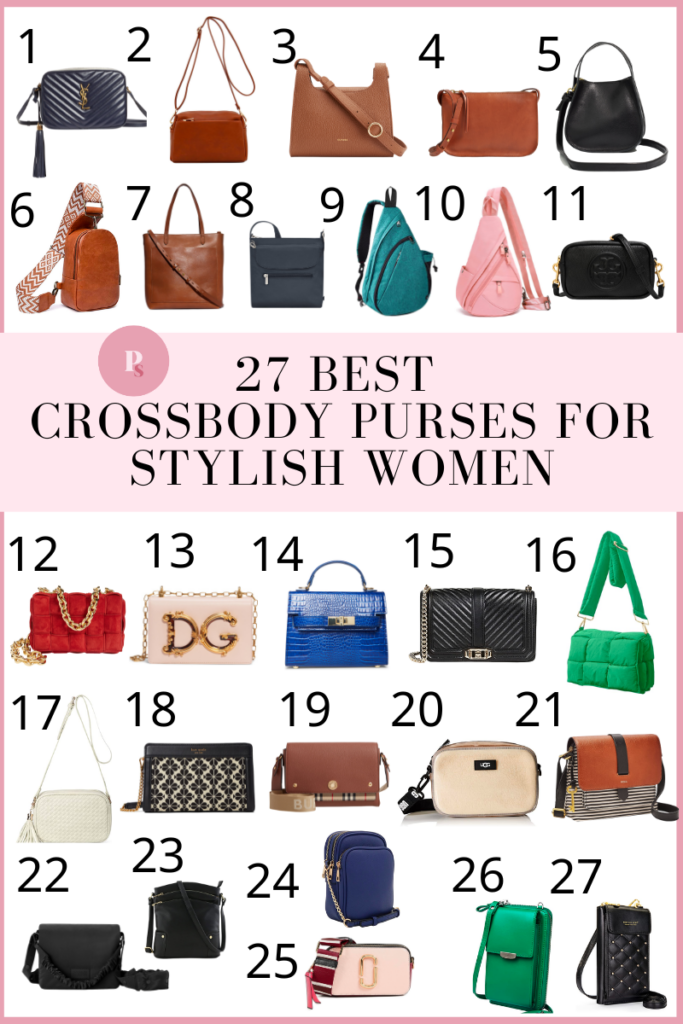 Paisley + Sparrow is a participant in the Amazon Services LLC Associates Program. This post may include affiliate links which means I may earn a small commission if you shop using the links below at no additional cost to you. 
This vintage leather camera bag by YSL is the perfect bag for all occasions. You will definitely fall in love with this calfskin crossbody-inspired bag with matelassé chevrons and a bold tassel on one side.
If you have been saving up to splurge on a high-end luxury crossbody purse that does not disappoint in terms of efficiency, style, and utility, this bag is my top choice.
It's available in a variety of colors and is ideal for both a casual day out and a special occasion.
This is the bag that I own (in multiple colors) and have gifted to so many of the ladies in my life! It's big enough to carry my wallet, phone, keys and a few kid snacks but small enough to not get in the way.
I like to get a bunch of different straps so I can match my outfit and have versatility in my bag (without having to buy a brand new bag all the time).
Find my black and white strap here.
And my colorful strap here!
If you want a luxurious Italian leather that made in a woman-owned factory in Turkey, this is the best option! This mini double loop bag is small enough to fit all your essentials with the perfect back pocket to keep your keys or credit card close.
It has a hidden magnetic closure so you don't have to worry about anything falling out while you're on the go! This bag comes in 5 core colors as well as seasonal colors. It also comes in different sizes – mini, medium and oversized!
I love this simple little bag! This genuine leather crossbody bag by Madewell needs to make its way into your life. It comes in several colors and makes for a chic clutch or small crossbody bag.
The interior capacity is extra small, so you can probably fit in your keys, lip gloss, phone, and cards into it comfortably.
You can use the adjustable shoulder strap according to your comfort and carry the bag whichever way you like — crossbody, on your shoulder, or as a clutch. The bag is made of vegetable-tanned vachetta leather, has a top zip closure, and an interior and exterior wall pocket.
Looking stylish does not have to cost you a fortune, and this Sydney Crossbody bag is a testament to that. The bag is available in four rich, beautiful colors.
What makes this bag versatile is that it is equally modern and vintage. The bag has top handles and an adjustable crossbody strap. It comes with plenty of pockets to store your coins and magnetic closure so that your belongings remain protected.
This sling crossbody bag comes in a variety of different colors and strap prints. It has a roomy main compartment as well as a smaller inner pocket. It even has a spot for your credit cards!
The bag is available in 18 different colors. Each color has a unique strap to go with it.
Travel with comfort and style with this Zip-Top transport tote bag by Madewell, which is an equally fantastic crossbody bag.
If you need a travel-friendly bag, you look for a product that stands the test of time, feels comfortable, and has enough room to hold all your travel essentials effortlessly. This bag ticks all the boxes.
The bag has a large main compartment, an exterior pocket, a detachable strap, and ergonomic top handles. It is made out of fine, sustainably-sourced leather and is available in four trendy colors.
If you want a small and sleek bag that accommodates a few essential items but has some extra security features, this bag is tailor-made for you.
Available in six colors, this bag has a front compartment with locking mechanisms, front and rear pockets, separate passport and card slots, adjustable straps, slash-proof material and removable LED lights.
You may not always feel like carrying big handbags when heading outside. Some days, you prefer a compact sling bag or a backpack that doesn't falter on practicality and space. The beauty of a sling bag compared to a backpack is that you can slide it forward enough to access what you need without taking it off!
This OutdoorMaster Sling bag is one of the best outdoor crossbody bags available. They are an affordable option for both men and women and come in multiple attractive color options.
They come complete with a hidden anti-theft pocket and an external water bottle holder. You can use this versatile bag as carry-on luggage or to carry your baby's everyday essentials.
If you love hiking, cycling, or adventurous outdoor activities, you need a bag you can carry on yourself and store all your essentials in.
This canvas sling bag is the perfect fit. I love that you can wear this bag as a single-strap crossbody bag or unzip it to make it a traditional backpack!
A unisex option that is cost-efficient, multi-functional, incredibly comfortable, and stylish to carry. The bag has adjustable straps, an additional bottle holder, and an anti-theft compartment so you can keep your phone and cash safe.
This iconic product by Tory Burch is a must-have for all bag lovers out there.
The double-T medallion exclusive to Tory Burch products is stamped on the front of the bag. There are two compartments to store your items in, with gold zip closures.
It has a removable, adjustable crossbody strap and exterior slip pockets. You can get it in two colors — black and Gray Heron.
Bottega Veneta creates some of the most beautiful, intricate and edgy bags in the fashion world. This Chain Cassette Suede Crossbody bag is proof of that.
Available in three different colors that will make heads turn, this bag has the best Italian craftsmanship behind it. Its removable thick, gold tone chain handle and straps and its signature Intrecciato weave redefine chic and fashion.
It does not falter on functionality either — the purse has a magnetic flap closure and an interior zip pocket to help carry your essentials safely.
You cannot have a complete designer bag collection unless you add a Dolce & Gabbana piece to it. This logo leather crossbody bag has a vintage aesthetic to it.
The bag is made out of premium-quality leather and has a smooth, vintage finish. It has a magnetic snap flap closure and pull-through chain strap.
This crossbody bag has the brand logo embellished with Baroque-inspired gilt and classic Italian style.
This gleaming piece can add life to any ordinary outfit. Whether you want a sophisticated look for a meeting or want that youthful and effortless look for a date night, this bag is the perfect pick.
The bag has a flap closure, adjustable straps, zip pockets on the inside, metal feet, and a structured finish that keeps the bag's shape intact.
Made out of 100% leather and a quilted exterior, this Rebecca Minkoff crossbody bag is a classic. If you're looking for a sophisticated bag that goes with everything and fulfills all your utility requirements, this is it.
The size of the bag is ideal for everyday use. It has enough space and compartments to hold all your essentials easily. This crossbody purse can be switched to a shoulder bag, too.
If you want something unique, look no further than this one! I bought this one recently and absolutely love it.
It has 2 magnetic snaps to keep your items safe, one large compartment plus 2 smaller compartments inside. There's also a zipper pocket inside to keep things extra safe.
This comes in a ton of different colors.
If you are inspired by bohemian fashion and want accessories that match that lifestyle, this crossbody bag is the right pick. The bag is the perfect size to carry it on all occasions.
The bag has a 3 pockets to keep your items safe and secure. Its adjustable strap is long, so you can wear it as a shoulder bag or a crossbody bag.
Don't you hate it when you have to hold your bag in one hand while you try to use your other to text? This is where a crossbody bag comes to your rescue, and this bag by Kate Spade delivers on factors other than practicality and efficiency. It is an affordable solution for going hands free when you are out and about.
The bag has a cute flower pattern embossed all across the front and back. A top zip closure safeguards your bag's contents. The purse also has a removable and adjustable strap and multiple pockets for easy storage.
Are you trying to be fashion forward? Elevate your wardrobe with some classy, beautiful pieces, especially this crossbody bag by Burberry. The tan color, along with the quintessential Burberry check print, makes the purse a great addition to your closet.
The bag has multiple interior pockets for easy storage and easy access. I love this colorway because it can go with all different outfits and can make you look elegant and classy.
How fun is this bag?! This Ugg crossbody bag has the faux fur material you know and love from UGG but with a clear covering to keep it looking fresh and new!
The strap can also be removed and put on through the back straps on the bag to wear it as a belt bag in addition to a crossbody bag. This bag comes in tons of different colors and prints.
This is a small crossbody purse with several subtle print options that can be worn for a casual day out. It is made of softly pebbled leather, has a flap with a magnetic snap, and zipper closure. The bag has an exterior pocket, one slide pocket on the back, one slide pocket on the front, and one zipper pocket.
The crossbody strap on the bag is adjustable, so you can fix it to fit you perfectly.
If you don't know about Dagne Dover yet, you're in for a treat! They are full of amazing bags from fanny packs to day packs and everything in between.
What makes this little crossbody bag the most versatile on our list is the fact that you can remove the crossbody strap and carry it with the short 7″ handle. Not feeling the handle? That's removable too! It can be a crossbody style, hand carry style or clutch style in seconds.
This bag is also made from Repreve® (recycled bottles) making it great for the environment too! It comes in 5 beautiful colors – take your pick!
This large crossbody bag is available in a pool of attractive colors so that you can buy one for every outfit. It's made of faux leather and has gold-tone fixtures.
With adjustable straps, three zipper closure pockets, and one open pocket inside, the bag is very roomy so you can easily store all your stuff in it, essential or not. It'd be great for a mom who only needs a few kid essentials but wants to look stylish at the same time.
This multi pocket bag will not only fit everything you need but also keep them organized! In addition to the 3 zippered pockets, it also has one rear slip pocket, 2 cards slots and 1 inside slip pocket.
The bag is designed to hold all your small items — keys, lip balm, a small bottle of cream, gym ID, wallet and credit cards, phone, and a disposable camera (hey, why not?). It comes in so many different colors!
This uber-stylish, leather crossbody bag by Marc Jacobs is sophisticated, easy to carry, and adds the perfect amount of oomph to your ensemble.
The statement straps are of the perfect width so the weight of the bag is equally distributed, and you'll forget you're even wearing it. The bag has multiple interior and exterior pockets to place your items securely.
A gleaming logo of Marc Jacobs is embedded on the front of the bag to add to its youthful aesthetic.
Sometimes all you need to carry is your phone but you don't have any pockets. That's when you need a smaller size crossbody made just for this purpose.
These bags deliver on uniqueness and ingenuity without compromising on comfort, practicality, and cost-efficiency. This leather phone crossbody fulfills all those features and offers more.
This crossbody bag is an ideal pick when you only have to carry your essentials like your cell phone, a few cards, and your house keys. You can save yourself the burden of carrying huge, bulky bags but still stay organized with this stylish purse.
This quilted crossbody bag can make you look good without compromising on comfort. If you're not a particularly big fan of carrying huge bags but need an alternative to keep your essentials in, this little bag is a good choice.
FAQ
This is a great gift idea for women in your life, whether they go to lots of music festivals, like to travel light, or always have a diaper bag and need something small just for their phone and keys! No matter what outfit you have on or its color, this bag will match it all.
Whether you like to travel with half your house in your purse or you're a grab-your-keys-and-go girl, I think a crossbody purse works for everyone. With the variety of options available, you'll never go out of style.
If you decide you want something else, here's more bag options!