This post is sponsored by COUNTRY Financial. All opinions are my own. Thanks for supporting Paisley + Sparrow!
If you've been following along throughout my pregnancy with our 3rd baby, you know we had a list of things to check off before baby Miles arrived!
We had things like going through all of our baby clothes, getting bottles/toys/etc. washed and ready, buying new car seats for my car, and moving around about 4 rooms in our home to open up the nursery again (Penelope moved out of the nursery to the guest bedroom, the guest bedroom moved to the basement workout room, the workout room moved to the main area of our basement living room and our basement living room was transformed from a pool table "adult fun zone" to a playroom).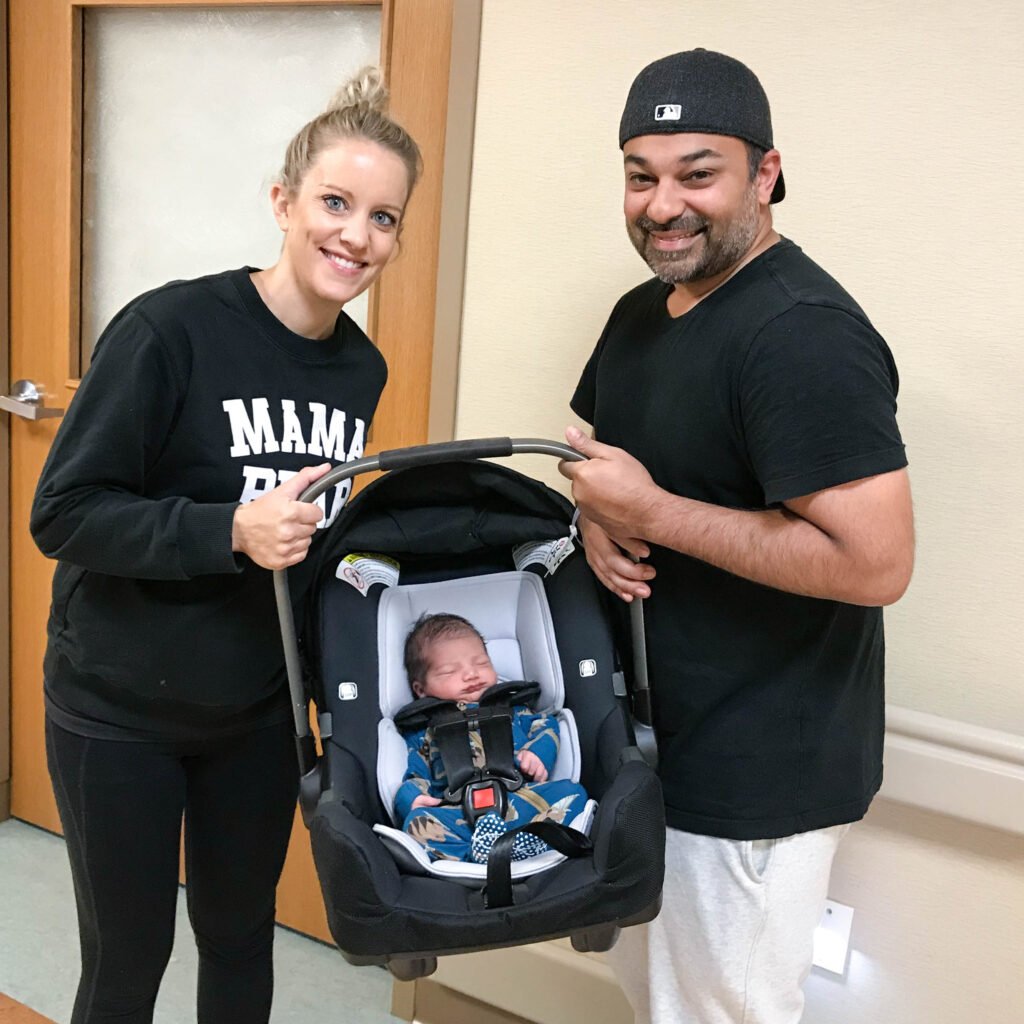 When we found out we were pregnant with the 3rd, our biggest challenge to figure out was how were we going to fit 3 kids in my car since it's small! As your family grows, its important to keep up with making sure everyone is always protected.
We bought my car after Penelope was born so we didn't want to buy a new one. Rishi's car is the least family friendly with 2 bucket seats in the back so there was no chance in fitting 3 car seats in his car!
What to Look For When Purchasing A Car Seat
When we got pregnant with Roy, Rishi took on the job of researching car seats. He is so good at doing all of the research when it comes to either big purchases or expensive purchases – really looking at the pros and cons of it all.
When you are looking at purchasing a car seat for your baby, there are so many different factors you need to look into. Here are a few things to take into consideration:
1. Cost
The cost of car seats can vary significantly. If funds are limited you could choose to start with a convertible style car seat rather than getting an infant car seat for the first year and then purchasing a larger one once they outgrow it.
Just make sure you have the funds for the car seat you want!
2. Weight of the Car Seat
This is especially important for infant seats or if you travel a lot and will be taking your car seat with you on flights.
When you take into consideration that you'll be carrying around a baby IN a car seat for much of their first year of life, the weight of the car seat actually makes a big difference! A 15 pound kid in a 10 pound car seat means you're carrying around 25 pounds.
3. Safety Features
Does it have a 5-point harness?
Is there any mention of side-impact protection?
Is it easy to adjust the harness?
4. Ease of Use
If you can't install it easily, it may not do its job of protecting your child!
5. Size/Width of the Seat
This is one of our biggest concerns now with 3 kids! We can't have a car seat that is too wide otherwise we can't fit it in my car.
6. Ease of Cleaning
When Roy was potty training, his most frequent place to have an accident was in his car seat. Gross! Thankfully the cover was pretty easy to remove and was machine washable so it got washed a lot during that season.
7. Car Seat + Stroller Compatibility
Looking into if your infant car seat can click into your stroller is super helpful! I didn't know that we needed special attachments to use our Nuna infant seat with our Uppa Baby stroller. I must've looked like a crazy person the first time I tried to take Roy out on a walk in his car seat! J
Getting a good car seat and using it correctly (ideally rear facing as long as possible) helps babies and toddlers to be as protected as possible in the event of a crash.
When Rishi was looking into what car seat we should get, he had a full excel document full of comparisons of tons of different car seats comparing all of the things I shared above.
Now, with our 3rd, we had to get new car seats in order to fit 3 in the back row of our smaller car. The ones we had were too wide to fit 3 side by side so we had to purchase new ones. Rishi went back to doing the research on car seats with the limitation of width. He did all of the research and watched all of the YouTube videos to land on the Clek Fllo brand!
There are a lot of things to look into and research when it comes to having kids and knowing that your kids are protected in their car seat in the event of a crash gives you such peace of mind every time you get in the car.
I hope this helps you in knowing how to find the right car seat for your child and your family!
If you'd like to learn more about how to protect your growing family, I suggest you check out COUNTRY Financial!