Everyone's sharing their 2018 goals lately which I love! I love goal setting and the feeling of a fresh start.
2017 was an amazing year for me but also a draining one. Being pregnant with a one year old…and then have a newborn with a 1.5 year old was (and is!) exhausting and on top of that I had a business to run, family and friends to be present for and a life to live! I don't function well on little sleep so poor Rishi got to deal with a not-so-pleasant Jen quite a bit, although I tried my best!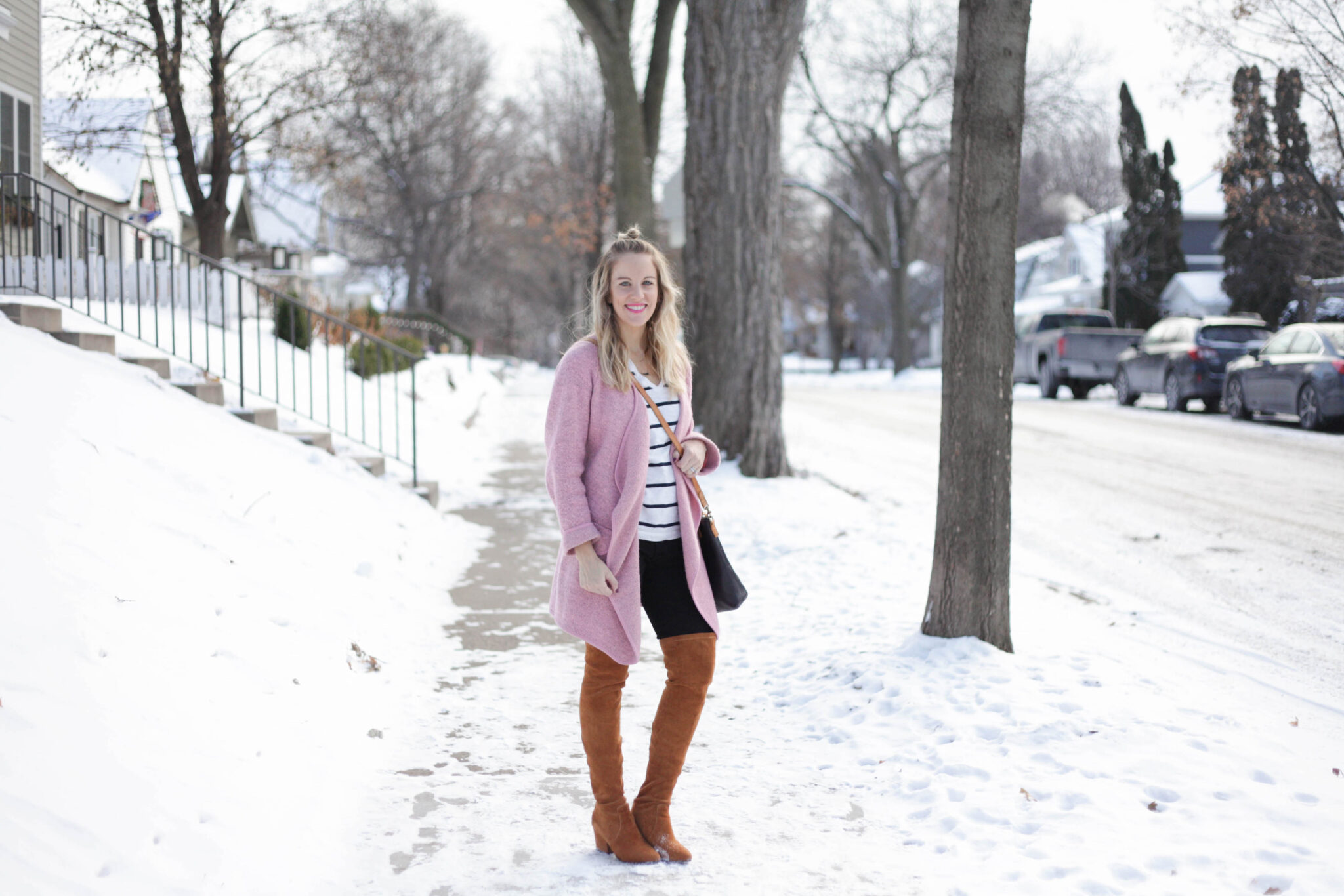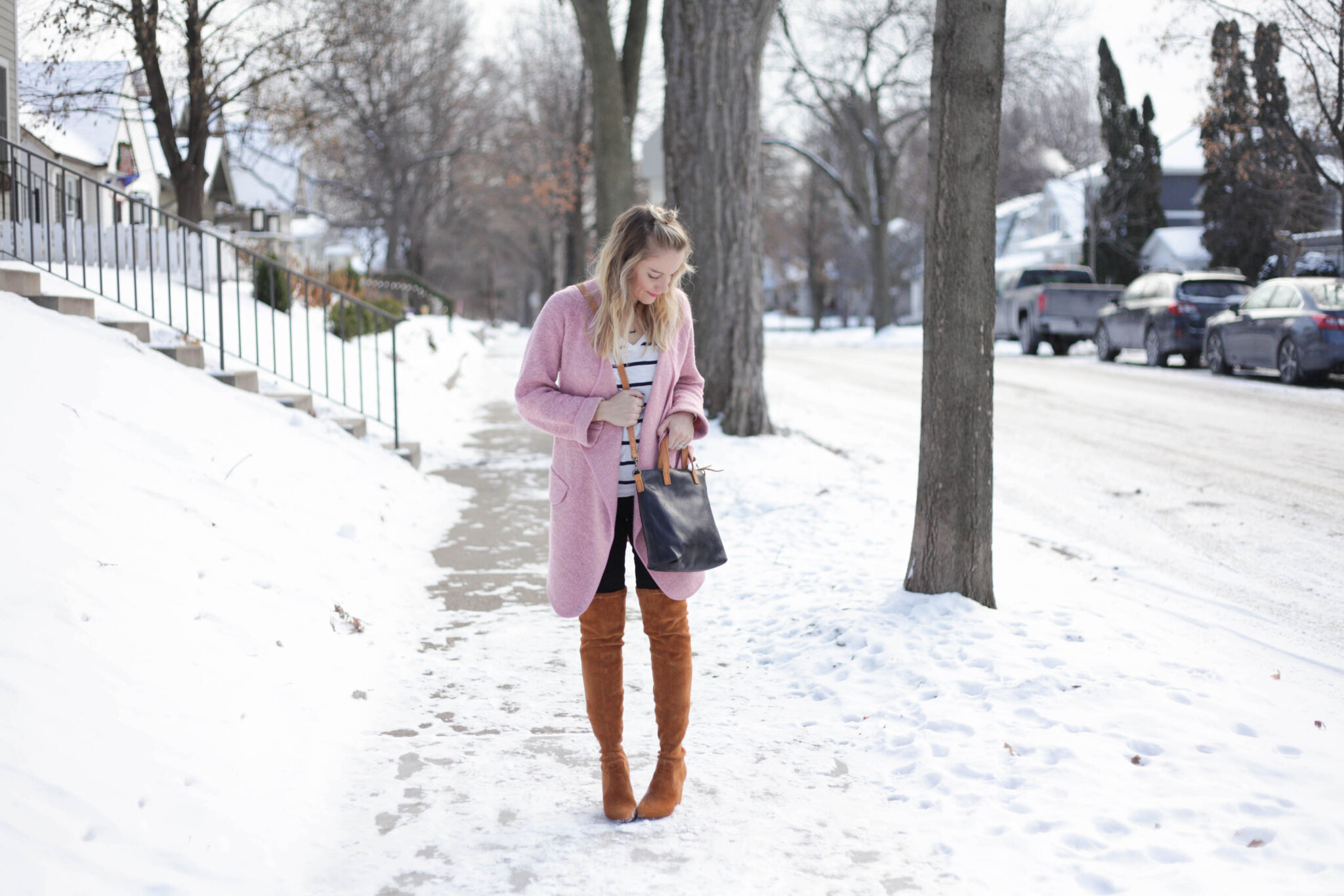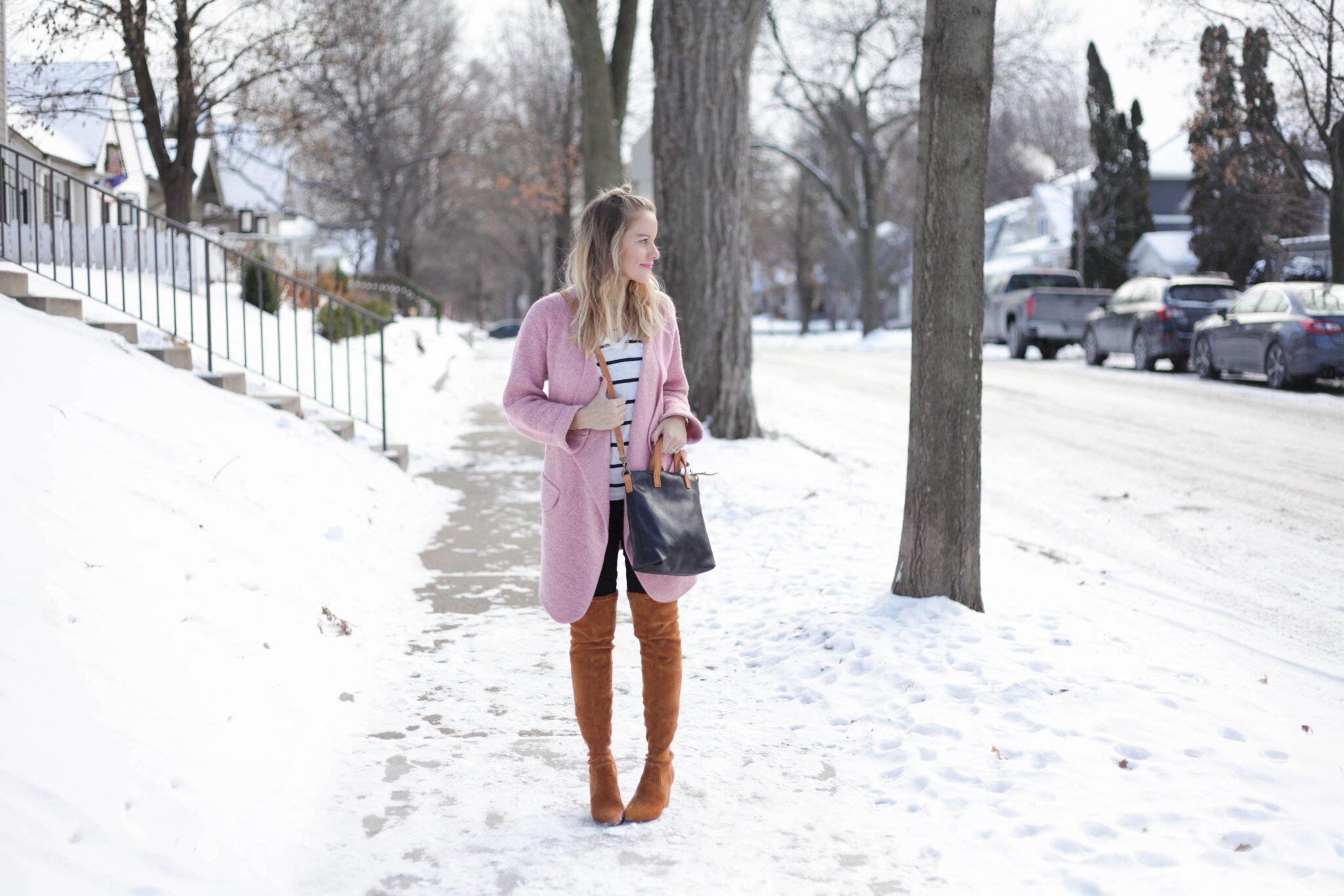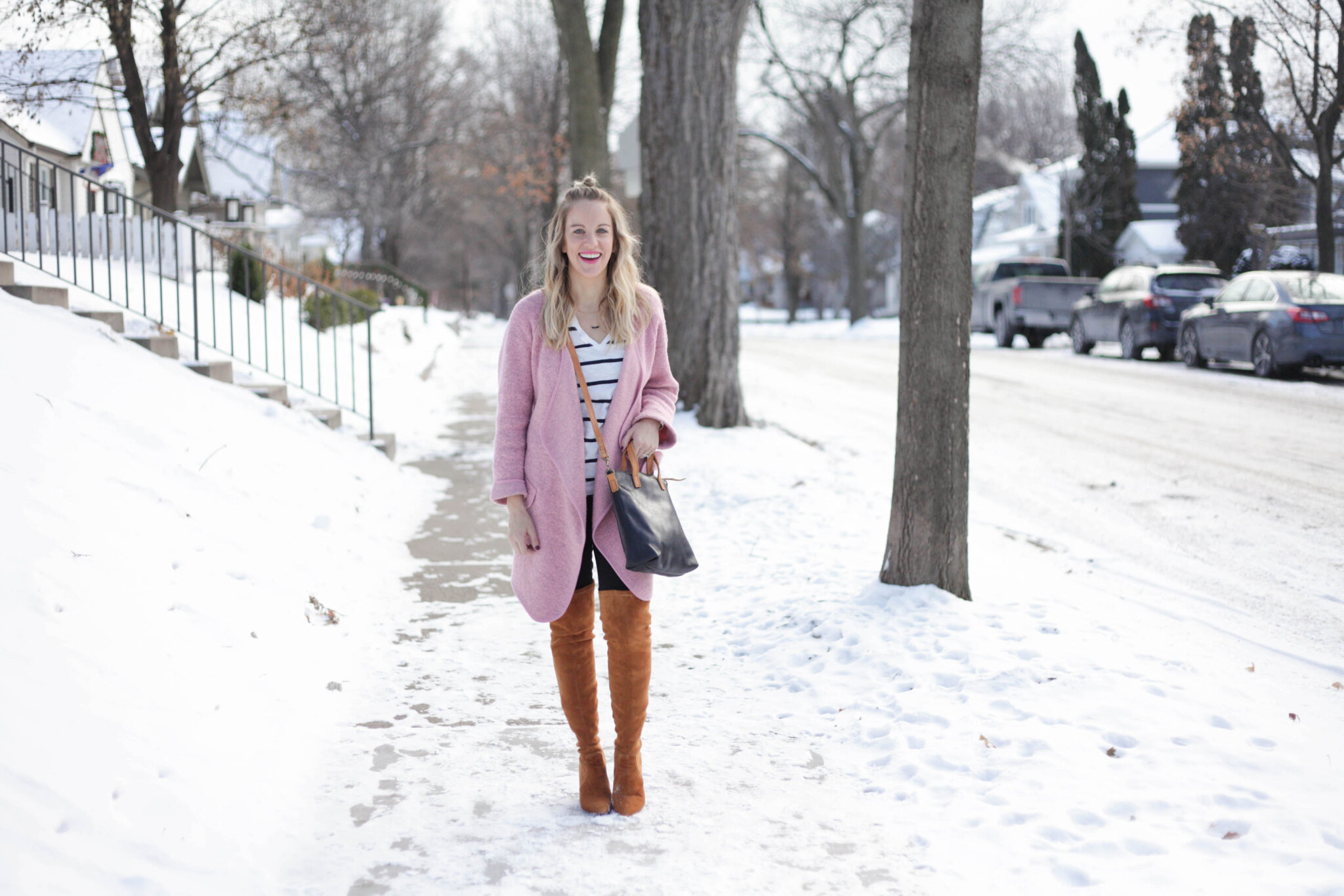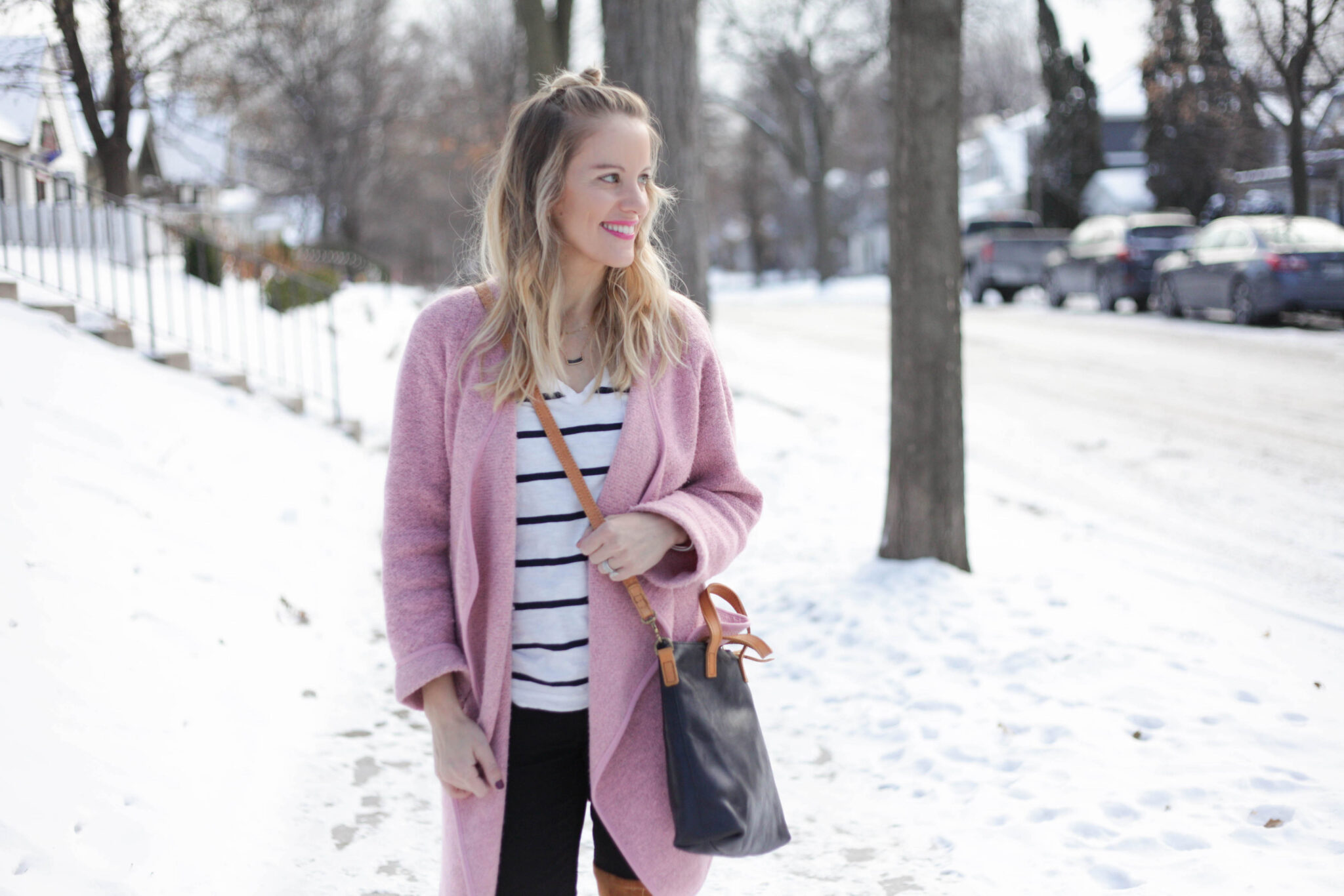 Wearing:
Goodnight Macaroon Boots + Sweater | Able Jeans + Bag (bag is in my shop!) | Madewell Tee | Beyond Borders Necklace (in my shop)
This year my focus is on the following (I'm writing SMART goals for each of these but these are just highlights):
1. Be a present and less stressed mom + wife
This includes weekly date nights with Rishi and being more proactive to do fun activities with the kids. I'm also going to be making a few changes to my business to help out with that (more on this later!).
2. Figure out how to do my hair + makeup better!
I completley realize this sounds highly vain but I've gone 33 years with knowing just the basic of how to do my hair and makeup. I recently started watching a few hair and makeup people on YouTube so if you have any suggestions let me know! I'm planning on documenting things I find along the way so be sure to follow along to learn what I'm learning. 🙂
3. Cook more + healthier meals
I recently started using the Cooking Light Diet plan which has been absolutely amazing. It gives me options of meals to make for the week (we typically don't eat every dinner at home each week) including a shopping list! I simply pick the meals I want, create my list on Instacart and get my ingredients delivered to me for the week.
Side note: Instacart has absolutely saved me after having P. I get my groceries delivered to me so I don't have to figure out where to put my groceries with a carseat AND a toddler AND I only buy things I need rather than ending up with 10 items not on the list. You can use this link to get $10 off your first order. (This isn't sponsored but I do get a $10 credit if you use my link. I promise I won't ever share stuff with you that I don't actually use myself.) Once it gets nicer out I will likely venture back out to the store because Roy loves saying hi to everyone when we're out and about but until I can pull Penelope out of her carseat and not have her freeze then InstaCart it is!
4. Spend time praying and reading each morning.
I'm currently spending the first 30 minutes of my day pumping (woohoo) so it's been easy to pull out my devotional book and do some reading since I'm stuck to machine. It'll take some practice keeping that habit once I'm done pumping whenever that is!
5. Get my style back!!!
Another vain one but I've been pregnant or post partum for 2 years and I feel like I've lost my mojo. It's time to think out of the box and get my style back!
6. Make fitness a priority.
I used to be a big runner but since having kids it's taken a backseat. I recently started up the BBG workout (more on that in a future post!) and am planning on running a half marathon next fall. I'm excited to get back into it!
I've already started on each of these and feel good like they're sustainable goals. I'm also feeling better that I'm eating more greens, having quality Jesus time + working out (despite being exhausted with 2 kids under 2 ha!). I'll be sure to update everyone as the months go by and life changes. 🙂
What are some goals that you have for the year? Thanks so much for reading and hanging out with me. I truly appreciate it!